WELCOME HALL MISSION/ MISSION BON ACCUEIL AND JUST FOR LAUGHS/ JUSTE POUR RIRE ARE ONCE AGAIN PARTNERING TO RAISE MONEY AND AWARENESS FOR WELCOME HALL MISSION'S
MONTREAL HELPS MONTREAL CAMPAIGN
Festival goers will find scannable QR codes throughout the festival site or can text HAHAHA to donate
Montreal, July 21, 2023 – Summer is in full swing in Montreal and with that so are our world class festivals, such as Just For Laughs/ Juste pour rire MONTRÉAL! For the second year in a row, Welcome Hall Mission and Just For Laughs / Juste pour rire are partnering together to promote the transformative relief that laughter has on mental health.
As part of Welcome Hall Mission's 'Montreal Helps Montreal' campaign, from now until July 29th festival goers will be encouraged to donate to the cause via pop up banners and digital screens which will display a scannable QR code or even by simply texting hahaha to 45678. This joint effort will provide comedy fans a quick and easy way to donate to Welcome Hall Mission, as the banners/ scannable QR codes will be displayed in numerous festival venues. The ease of scanning a QR code or texting at anytime will allow festival goers to donate while on the go, in less than 10 seconds.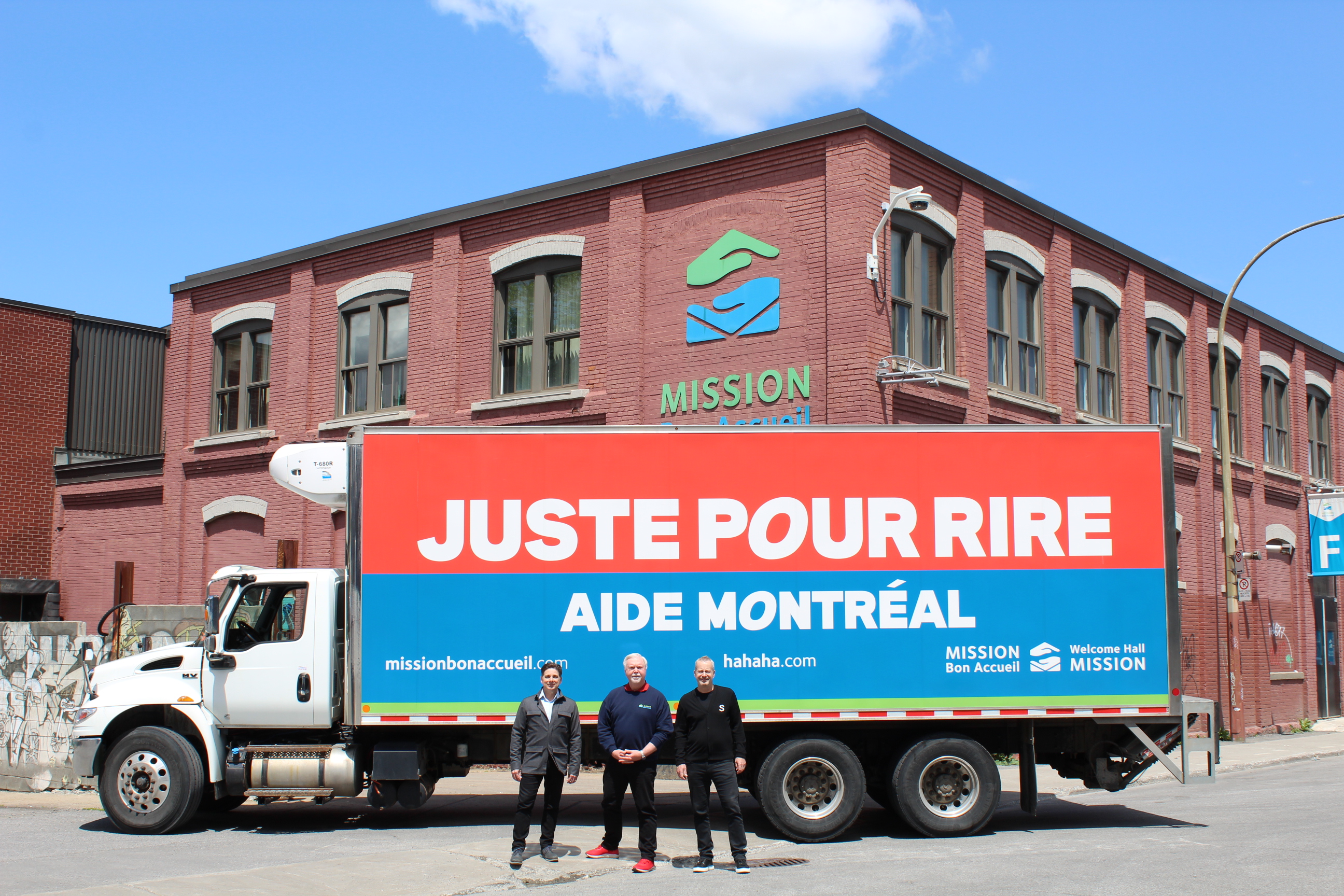 Welcome Hall Mission's slogan is 'Shelter. Food. Love' and a partnership slogan was created in 2023 to truly embrace the common goal with Just For Laughs/ Juste pour rire. 'Shelter. Food. Love… and Laughter!'. Both organizations are focused on building overall awareness for mental health- Welcome Hall Mission provides programs that are directly dedicated to improving the lives of people in a mental health crisis and in helping to raise funds for the cause, Just for Laughs/ Juste pour rire is helping Montrealers in need!
"We value our partnership with JFL/ JPR because as organizations we are both focused on lifting the human spirit. Comedy, through laughter, lifts the human spirit. WHM, through shelter, food and love is lifting the human spirit of those who are disadvantaged. We have done this for 130 years and partnerships such as this one with JFL/JPR allow us to reach even more people.", Sam Watts, CEO, Welcome Hall Mission.
Charles Décarie, CEO, Just For Laughs Group / Groupe Juste pour rire, also commented "We welcome the opportunity to be renewing our partnership with Welcome Hall Mission for a second consecutive year to help Montrealers in need. The Montreal community is at the core of what we do and italso tremendously important for us to use our connection with the community to give back. In the world of comedy, mental health is an issue that has a major impact on all areas of the industry. As an organization it is important for us to support the efforts of those who provide mental health services, which is one of the reasons why this collaboration is such a perfect fit."
Banners with scannable QR codes can be found at the following locations:
Place des Arts
Theatre St-Denis
DoubleTree Hotel Lobby
MTELUS
Studio TD
Club Soda
Merchandise Tents
The text-to-donate is also available at anytime by texting hahaha to 45678.
About Just for Laughs Group
Global leader in comedy and home to the #1 Comedy Festival in the World, Just for Laughs Group has been launching and championing top comedic talent - from Jerry Seinfeld, Kevin Hart, Amy Schumer, Ali Wong, Bill Burr Hasan Minhaj, Jimmy Carr, Trevor Noah, John Mulaney and countless others for close to 40 years. Founded in 1983, the company is a vertically integrated international powerhouse in the creation of multiplatform comedic content. Every year, millions of spectators are entertained at its worldwide festivals, from Montréal – the biggest comedy event in the world – to Toronto and Vancouver, Canada; Austin, U.S.A.; London, UK; and Sydney, Australia; featuring thousands of Canadian and international comedians - from well-established artists to aspiring up-and-comers. With concentrated growth on television development and production, the Group's digital and televised content is shown in over 150 countries and followed by an online audience of over 14 million. In addition, the Group produces touring shows, stages its own musicals, provides talent management services for Quebec artists and is the originator of the ComedyPRO conference. For more information, visit www.hahaha.com.
About Welcome Hall Mission / Mission Bon Accueil
Established in 1892, Welcome Hall Mission is the largest doorway to help for Montrealers in need. A variety programs and resources are available to support those experiencing homelessness, young mothers, impoverished families, at-risk youth and seniors.
Visit www.welcomehallmission.com for more information.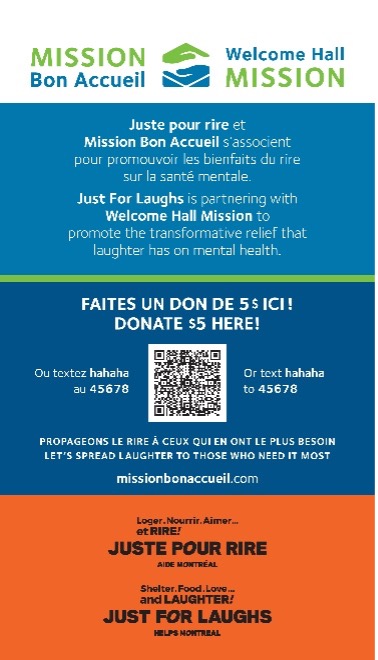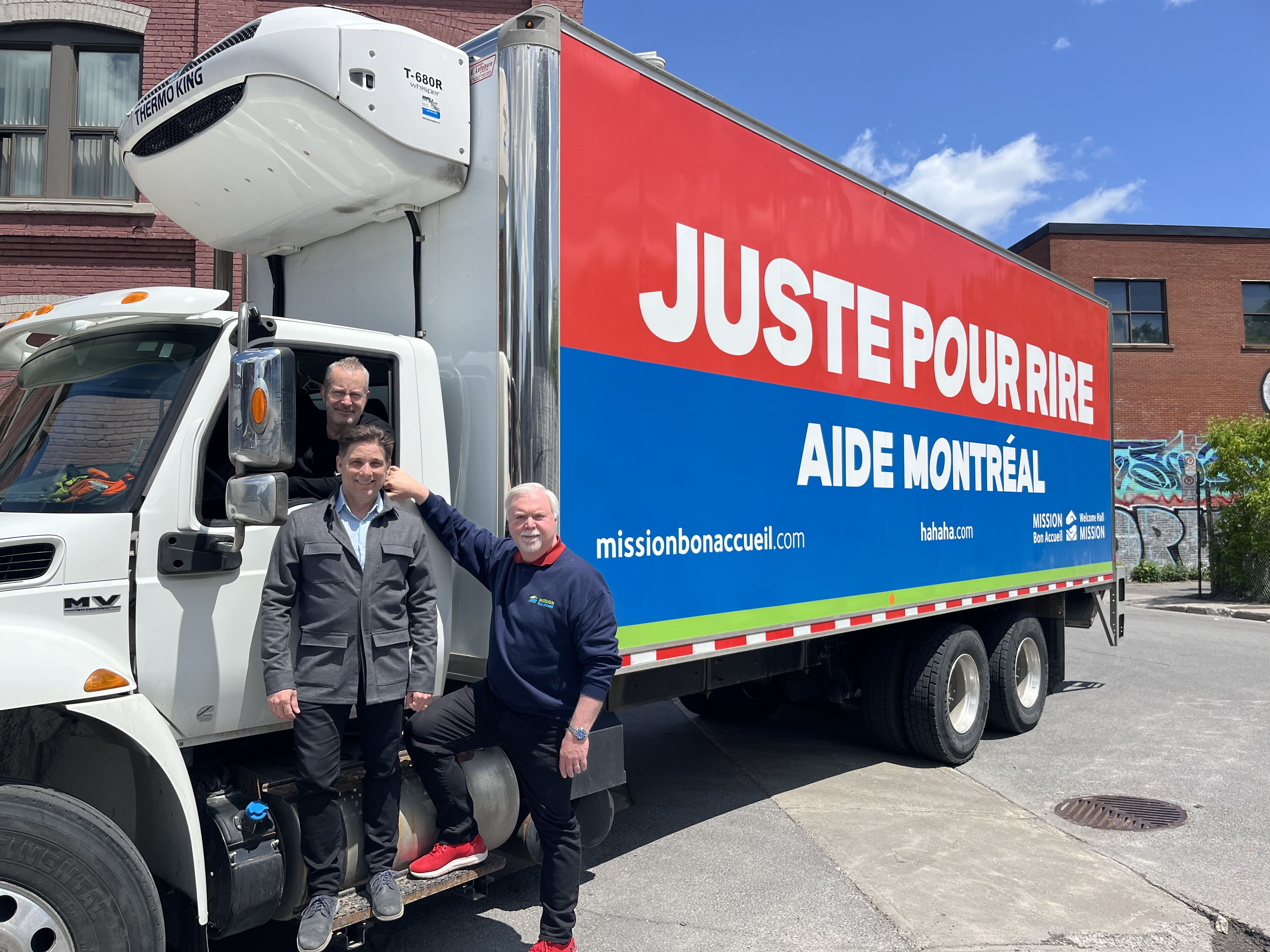 In this photo (left to right) Bruce Hills (inside truck) (President, Just For Laughs), Charles Décarie (President / CEO Groupe Juste pour rire/Just For Laughs) & Sam Watts (President & CEO Welcome Hall Mission / Mission Bon Accueil)
Sources : Just For Laughs/ Juste pour rire Group and Welcome Hall Mission
Médias : Welcome Hall Mission- [email protected], JFL/JPR- [email protected]