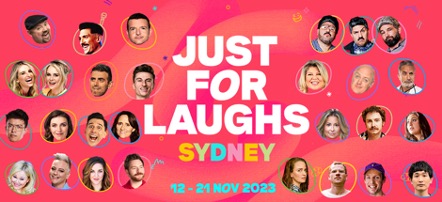 2023 JUST FOR LAUGHS SYDNEY – FINAL LINEUP ANNOUNCEMENT!
12- 21 NOVEMBER
GET YOUR TICKETS NOW TO THE FUNNIEST EVENT OF THE YEAR!
With less than 30 days away, Just For Laughs Sydney is excited to announce the final line-up of its 11th edition which promises to be the biggest event to date!

The full line-up of the crown jewel of the festival, the Just For Laughs All-Star Gala, hosted by Urzila Carlson has been revealed! The All-Star Gala will once again feature a star-studded line up with some of the world's top comedians along with some of Australia's best with performances by Nina Conti, Dara O Briain, Dilruk Jayasinha, Russell Kane, Tommy Little and Joanne McNally.

Additional comedians have also been announced for the very popular, Just For Laughs Australia: Live hosted by Melanie Bracewell, star of Channel 10's The Cheap Seats. A festival favourite, the series of shows give audiences the opportunity to catch many top comedians in an intimate setting over three hilarious nights. Each show features a different line-up. The series is filmed in front of a live audience and is set to air on Network Ten in 2024.

Just For Laughs Australia: Live features an incredible line-up of over 30 Australian and International comedians including: Geraldine Hickey, Tom Cardy, Harley Breen, Michael Hing, Catherine Cohen, Joanne McNally, Urzila Carlson, Zoe Coombs Marr, Luke Heggie, Nina Oyama, Joe Daymond, Caroline Rhea, Tommy Little, Nazeem Hussain, Dan Rath, Michelle Brasier, Guy Montgomery, He Huang, Ivan Aristeguieta, Dara O Briain, Becky Lucas, Cameron James, Dilruk Jayasinha, Sam Taunton, Gilian Cosgriff Nina Conti, Kevin Kropinyeri, Bronwyn Kuss, Russell Kane, Daniel Muggleton and Damien Power.

And finally, the latest addition to this year's fest is Canadian born comedian, Caroline Rhea, best known for her role on the hit series Sabrina The Teenage Witch. Caroline will be performing her current show, "I Identify as a Witch" at The Studio at the Sydney Opera House on Wednesday 15 November. Caroline currently stars as the voice of Linda Flynn-Fletcher on the hit Disney Channel show Phineas and Ferb.

The Festival will take place 12-21 November and tickets are on sale now. Visit justforlaughs.sydney for show details and ticket information and follow our X, Facebook and Instagram pages to stay up-to-date on announcements and current events.

As our Official Hotel Partner, Sofitel Sydney Wentworth have created a tailored offer for Just for Laughs Sydney audiences. If you are planning to travel to Sydney or just for a staycation, enhance your experience by booking a luxury stay at Sydney's iconic hotel with the So Cultural Offer. Details on the Just For Laughs Sydney website.
About Just For Laughs
Global leader in comedy and home to the #1 Comedy Festival in the World, Just for Laughs Group has been launching and championing top comedic talent - including Jerry Seinfeld, Bill Burr, Kevin Hart, Amy Schumer, Trevor Noah, Ali Wong, Hannah Gadsby, Hasan Minhaj, Jo Koy and Russell Peters - for close to 40 years. Founded in 1983, the company is an international powerhouse in the creation of multiplatform comedic content. Every year, millions of spectators are entertained at its worldwide festivals, from Montréal – the biggest comedy event in the world – to Toronto and Vancouver, Canada; Austin, U.S.A.; London, UK; and Sydney, Australia; featuring thousands of Canadian and international comedians - from well-established artists to aspiring up-and-comers. With concentrated growth on television development and production, the Group's digital and televised content is shown in over 150 countries and followed by an online audience of over 14 million. In addition, the Group produces touring shows, stages its own musicals and is the originator of the ComedyPRO industry conference.
JUST FOR LAUGHS SYDNEY – 12-21 November
FULL FESTIVAL SCHEDULE
Tickets On Sale Now
DAY
DATE
ARTIST
THEATRE
SHOWTIME
Saturday
28 October
Trevor Wallace
Enmore Theatre
7:00 PM
Monday
13 November
Catherine Cohen
Factory Theatre
7:00 PM
Monday
13 November
Kevin Bridges
State Theatre
8:00 PM
Monday
13 November
Phil Wang
Enmore Theatre
8:00 PM
Monday
13 November
Sooshi Mango (Hosts) & Friends
Effie, My Cousin Vlad, Nikki Osborne, Joe White, Ibby Akbar, Troy Kinne
Sydney Opera House
8:00 PM
Tuesday
14 November
Bassem Youssef
Enmore Theatre
7:00 PM
Tuesday
14 November
Dara O Briain
State Theatre
8:00 PM
Wednesday
15 November
The Alternative Show Hosted by Geraldine Hickey
Guy Montgomery, Dan Rath, Takashi Wakasugi & Zoe Coombs Marr
Factory Theatre
7:00 PM
Wednesday
15 November
My Therapist Ghosted Me Live!
State Theatre
7:00 PM
Wednesday
15 November
Caroline Rhea
Sydney Opera House
7:15 PM
Wednesday
15 November
Musical Comedy Is Cool Hosted by Tom Cardy
Cameron James, Gillian Cosgriff & Catherine Cohen
Factory Theatre
9:30 PM
Thursday
16 November
Russell Kane
Factory Theatre
7:00 PM
Thursday
16 November
Just For Laughs Australia: Live Hosted by Melanie Bracewell
Geraldine Hickey, Tom Cardy, Harley Breen, Michael Hing & Catherine Cohen
Sydney Opera House
7:15 PM
Thursday
16 November
Just For Laughs Australia: Live Hosted by Melanie Bracewell
Zoe Coombs-Marr, Luke Heggie, Nina Oyama, Joe Daymond & Caroline Rhea
Sydney Opera House
9:30 PM
Friday
17 November
Just For Laughs All-Star Gala Hosted by Urzila Carlson
Nina Conti, Dara O Briain, Dilruk Jayasinha, Russell Kane, Tommy Little & Joanne McNally
Sydney Opera House
7:00 PM
Friday
17 November
Just For Laughs Australia: Live Hosted by Melanie Bracewell
Tommy Little, Nazeem Hussain, Dan Rath, Gillian Cosgriff & Guy Montgomery
Sydney Opera House
7:15 PM
Friday
17 November
Andrew Schulz
Aware Super Theatre
8:00 PM
Friday
17 November
Just For Laughs Australia: Live Hosted by Melanie Bracewell
He Huang, Ivan Aristeguieta, Urzila Carlson, Dara O Briain & Joanne McNally
Sydney Opera House
9:30 PM
Saturday
18 November
Just For Laughs Australia: Live Hosted by Melanie Bracewell
Becky Lucas, Cameron James, Dilruk Jayasinha, Sam Taunton, Daniel Muggleton & Michelle Brasier
Sydney Opera House
7:15 PM
Saturday
18 November
Andrew Schulz
Aware Super Theatre
8:00 PM
Saturday
18 November
Just For Laughs Australia: Live Hosted by Melanie Bracewell
Nina Conti, Kevin Kropinyeri, Bronwyn Kuss, Russell Kane & Damien Power
Sydney Opera House
9:30 PM
Sunday
19 November
Becky Robinson
Factory Theatre
7:00 PM
Sunday
19 November
Kevin Bridges
State Theatre
7:00 PM
Sunday
19 November
Sam Morril
Enmore Theatre
7:00 PM
Monday
20 November
Nina Conti
Sydney Opera House
7:00 PM
Monday
20 November
Russell Kane
Factory Theatre
7:00 PM
Monday
20 November
Kevin Bridges
Sydney Opera House
8:00 PM
Tuesday
21 November
Nina Conti
Sydney Opera House
7:00 PM
Tuesday
21 November
Kevin Bridges
State Theatre
8:00 PM
Saturday
2 December
Gabriel Iglesias
Qudos Bank Arena
8:00 PM
Tickets available at sydneyoperahouse.com/justforlaughs
or 02 9250 7777 and via Ticketek 132 849 or ticketek.com.au
Tickets for Catherine Cohen, Phil Wang, Russell Kane, Andrew Schulz, Becky Robinson, Sam Morril, Gabriel Iglesias, Trevor Wallace, Bassem Youssef, The Alternative Show & Musical Comedy Is Cool are available at ticketek.com.au
Tickets for Dara O Briain, Kevin Bridges (State Theatre) & My Therapist Ghosted Me Live! are available at ticketmaster.com.au
Find us on social #JFLSydney
Facebook: @justforlaughssydney
X: @ JFLSydney
Instagram: @JFLSydney
Keep up to date by signing up to our newsletter at justforlaughs.sydney

For further information, photographs and interviews, please contact:
DIANNA O'NEILL PUBLICITY
Phone 02 9337 2288 Mobile 0418 468 148
Email [email protected]