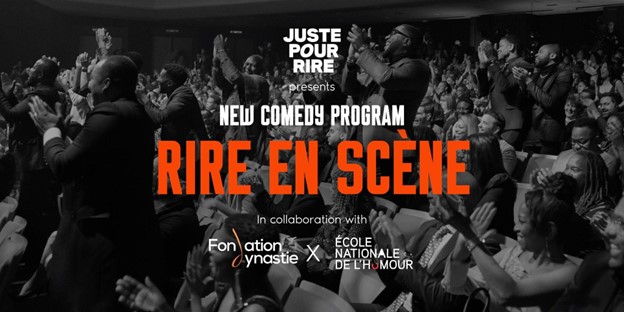 The Fondation Dynastie and Juste pour rire Join Forces
Montreal, November 1, 2023 - Fondation Dynastie and Juste pour rire, two pillars of Montreal's entertainment and culture industry, are proud to announce their new partnership which aims to promote diversity and inclusion within the world of comedy while providing unprecedented opportunities to rising stars from Black communities.

This innovative partnership focuses on several initiatives that will open new doors for aspiring comics. Firstly, the partnership will introduce a unique, new training program developed by the École nationale de l'humour that will help new comics take the next steps in their career journey. As part of the course, participants will have the opportunity to learn alongside professional artists, thereby offering them an essential stepping stone to develop their careers in the comedy industry.

As part of this new collaboration, Fondation Dynastie and Juste pour rire will also be partnering to produce a show on the main outdoor stage at the 2024 edition of Juste pour rire MONTRÉAL. An event which promises to bring plenty of laughs to festival goers while featuring an extensive line up of talented artists who represent Montreal's rich cultural diversity. Finally, this partnership will also go backstage, behind the scenes of the comedy world, offering opportunities to those aspiring to work in the technical and/or creative aspects of the industry. By creating opportunities for candidates to gain experience in these essential roles, Fondation Dynastie and Juste pour rire are paving the way for new career paths while contributing to a more inclusive cultural environment.

« For 7 years, Fondation Dynastie has been recognized for its contribution to the Gala Dynastie, which highlights the significant contribution of Black communities in the fields of culture, media, and the arts. Consequently, a desire to do more and concretely assist emerging talents in their professional journey became the next logical and crucial step in the Foundation's activities. » - Carla Beauvais, General Manager of the Fondation Dynastie

For Patrick Rozon, Chief Creative Officer at Juste pour rire, this partnership is a natural progression: "One of the pillars of our vision for the Groupe Juste pour rire and our festival is to connect with Montreal's cultural communities, draw inspiration from them, make them shine, and amplify the festival's social impact. We are thrilled to partner with Fondation Dynastie to provide a unique platform for rising comedy stars from Black communities that will enable them to shine even brighter and share their stories with an even wider audience. Producing festivals and events that are diverse and open to all is of paramount importance to us, and we are proud to collaborate with an organization that does exceptional work in offering new opportunities and greater representation to artists from the Black community within Quebec's media, arts, and cultural industries."
Rire en scène: A Unique Training Program
Fondation Dynastie is pleased to present a new training program aimed at the development of emerging Black comedians in Quebec! Named "Rire en scène", this initiative was born from a fruitful collaboration with two giants of the industry, Juste pour rire and École nationale de l'humour.

For Tracy Paulotte, Chief Program and Outreach Officer at Fondation Dynastie, the "Rire en scène" program represents a closer involvement of the organization within the community it serves. "We created this program with a clear idea in mind: to support and guide those who dream of making it in the world of comedy, helping them unleash their full professional potential. "Rire en scène" paves the way for an exceptional group of talents, with the goal of making careers in comedy more accessible to people from Black communities. This first cohort of the Fondation Dynastie symbolizes the beginning of an important change. Thanks to the enthusiastic collaboration of our partners, who are aware of the significance of this program."

Through a practical, interactive, and immersive approach, the "Rire en scène" program will enroll between 6 and 8 participants starting this February for a 9-week, free training course. Classes and teaching materials will only be offered in French. However, anglophones are more than welcome since they will be able to write and perform in English. The training includes composing and creating sketches, as well as mentorship sessions provided by industry professionals. Participants of the program will also benefit from valuable work experience, as the program also includes the opportunity to perform at either the Juste pour rire Festival and/or Zoofest.

"Laughter is a complex art, and it is essential for aspiring comedians to develop their skills and explore their own comedic voice. Through this partnership, we aim to provide a dedicated learning space where they can refine their craft and nurture their creativity. Such training is a highly significant opportunity for emerging talents, and I am convinced that we will witness true comedy vocations blossom as a result of this program." - Louise Richer, CEO Founder of École nationale de l'humour.

The "Rire en scène" program is open to passionate comedians from Black communities who perform through sketches, videos, clips, routines, or have already taken to the stage. All individuals looking to refine their talent to deliver a memorable performance on stage in front of an audience and industry professionals are invited to submit their applications online starting today, November 1, 2023, until January 5, 2024. The comedians chosen for the February 2024 cohort will be announced on the Fondation Dynastie, Juste pour rire and the École nationale de l'humour websites and social media channels during the week of January 29, 2024.

For more details, visit :
https://www.fondationdynastie.com/programmation/rire-en-scene
About Fondation Dynastie
Founded in 2016, Fondation Dynastie actively advocates for the sustainable transformation of the cultural, artistic, and media industries to ensure better representation of Black communities in Quebec. Through various initiatives, it supports and accompanies Afro-descendant individuals in these sectors, facilitating their development and professionalization. To learn more : fondationdynastie.com
About Juste pour rire
Global leader in comedy and home to the #1 Comedy Festival in the World, Juste pour rire Group has been launching and championing top comedic talent - from Kevin Hart, Jean-Marc Parent and Nikki Glaser to Ali Wong, Hasan Minhaj, Eve Côté, Virginie Fortin and Jo Koy - for close to 40 years. Founded in 1983 and jointly owned by ICM Partners, Groupe CH and Bell Media, the company is a vertically integrated international powerhouse in the creation of multiplatform comedic content. Every year, millions of spectators are entertained at its worldwide festivals, from Montréal – the biggest comedy event in the world – to Toronto and Vancouver, Canada; Austin, U.S.A.; London, UK; and Sydney, Australia; featuring thousands of Canadian and international comedians - from well-established artists to aspiring up-and-comers. With concentrated growth on television development and production, the Group's digital and televised content is shown in over 150 countries and followed by an online audience of over 14 million. In addition, the Group produces touring shows, stages its own musicals, and is the originator of the ComedyPRO industry conferences. For more information, visit hahaha.com
About École nationale de l'humour
Founded in 1988, l'École nationale de l'humour is proud to celebrate its 35th year! As the world's first professional humour training school, the ÉNH passionately pursues its unique and original mission: to provide training for creators who wish to specialize in the field of humour as comedians, authors, or comedy scriptwriters. Today, the ÉNH has more than 700 graduates, and their presence on all platforms is the most eloquent testament to its relevance and impact. They represent over 70% of Quebec's comedy offering and include recipients of the Olivier Awards in the past recent years. Furthermore, the school's expertise is recognized throughout the French-speaking world. It is a private, nonprofit educational institution recognized by the Ministry of Education and Higher Education and supported by the Ministry of Culture and Communications of Quebec, Canadian Heritage, and the Cultural Investment Program of the Quebec. For more information, visit : enh.qc.ca